Dear and Faithful Orthodox Christians,
Christ is Risen!
Truly He is Risen!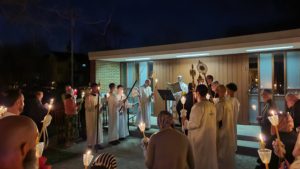 May the truth of Our Saviour's victory over Hades, trampling down death by death, and His glorious Resurrection from the dead, be for all of us a wellspring of enlightenment and hope throughout the year ahead.
How blessed we were throughout Holy Week and Pascha to hear together the instructive readings, so many lessons from the holy Gospels, and the prayers and hymns of the Services. And then as we gathered together late in the night in anticipation outside the Church, we heard from the holy Evangelist Mark how the Myrrh-bearing women encountered the Angel in the sepulchre who said to them, 'Be not affrighted: Ye seek Jesus of Nazareth, which was crucified: He is Risen; He is not here: behold the place where they laid Him.' And recall also the words in the Gospel of Matthew: 'Christ is Risen, He is not here… go quickly and tell His disciples that He is Risen from the dead.'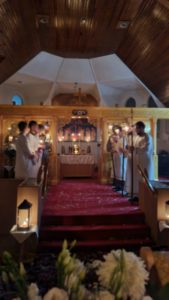 In the stillness of the night we chanted together in joy:
"Christ is Risen from the dead, by death hath He trampled down death,
and on those in the graves hath He bestowed life!"
Renewed in spirit and in faith, let us all rejoice and come together each Sunday and Feast day ahead to honour and worship Our Lord Jesus Christ.
I share with you the 2023 Paschal Encyclical of our Metropolitan Gregory, the Locum Tenens of the See of Toronto. I encourage you to read it through several times in the coming days as it outlines for us so clearly the magnificent and wondrous work of salvation wrought by Our Saviour.
To Him be glory and dominion unto the ages! Amen.
Father Anthony