"The Lord is my light, and my saviour; whom then shall I fear? The Lord is the defender of my life; of whom shall I be afraid?"
For a number of years a little humble chapel, dedicated to St. Nicholas the Wonderworker in the small town of Russell, Manitoba, existed within the Diocese of the Metropolis of Toronto. Older copies of the Diocesan Pocket Calendars made reference to St. Nicholas Chapel and its warden, Nicholas Dohie.
This, quite simply put, is a short memoir of a that little underground (catacomb-like) chapel, the man who built and prayed in it, where the Divine Services were once celebrated, its closure, and in time, how the faithful were blessed with the establishment of a beautiful cathedral dedicated to St. Nicholas the Wonderworker. The little chapel, like a tiny seed hidden in the ground, appeared to be dormant – forgotten; but by the grace of God, the seed sprouted and blossomed – a quiet marvel.
Who was this man? His name in the world was Nicholas Dohie. He was born on June 8, 1926 to Elias and Magdalena Dohie and raised on a homestead-farm a short distance from St. John the Baptist Orthodox Church in the district known as Lenard, Manitoba.
For a good part of his adult life, Nicholas worked at the then, well-known Skinner Nursery and Tree Farm.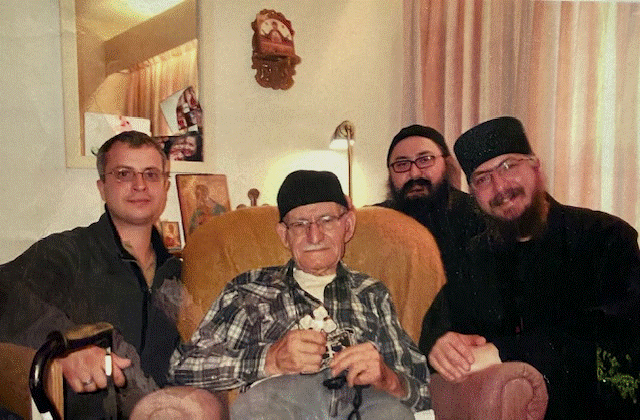 Nicholas loved trees and knew a great deal about them – he had a profound respect for God's creation – the land and what was grown in it. Later, he and his family moved and made Russell, Manitoba their home.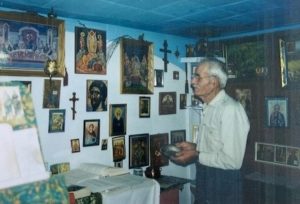 As time passed, he and his family made their way through daily life in Russell. But in around 1976, Nicholas found himself quite alone in his desire to keep the "Faith of the Fathers" pure and unchanged. He was grieved by the numerous innovations he readily observed evolving in the local church communities along with changes in the mindset of people. Unpretentious, Nicholas was vocal in his objections to issues such as the Church calendar change, episcopal disregard for the Holy Traditions of the Church, the haphazardly executed translations, and last, but not least, the ever-growing embrace of ecumenism.
In light of these trends, Nicholas separated himself from these 'church' communities. Facing isolation and local community ostracizing and condemnation, he remained firm. He no longer, in good conscience, felt he could attend services at the local churches which had been such a great part of his life. (During his lifetime, he served as a Church School teacher, chanter; and out his love and respect for those who reposed, worked tirelessly in restoring and repairing the graveyard Crosses, fencing and maintaining general upkeep of the Romanian Orthodox Church cemeteries (St. John the Baptist, St. Elias the Thesbite and St. George Great Martyr.)
In his youth he would recollect, there were several people who had greatly impressed him. One such individual was an old priest who admonished the people a day would come where a right-believing man would have to travel for days to find the True Church. Amazed at hearing this and not fully understanding his meaning, the then young Nicholas went outdoors and looked around as he could clearly see the domes of St. John and of St. Elias Churches. Nicholas thought to himself, "what is he (the priest) talking about?". However, in later years, Nicholas would find himself in just such a situation as he heard the old priest warn many years earlier.
The thought of building a home chapel grew and became a reality. His home was small and modest and spare room was non-existent; he therefore decided to dig, pail by pail, an area next to the root cellar in the basement. The room was no more the 8' by 8'. One entered St. Nicholas Chapel via a sliding door located at the base of stairs. At first glance, your eyes were "treated" to icons and vigil lamps. The walls were painted in shades of blue — the "Voronets" blue predominating. A long counter lined the east and south walls and on the west wide was a couch. Above the couch, were shelves of books. The floor was covered with kilims and little carpets. St. Nicholas Chapel became a 'must see' in later years especially by clergy who heard of this wonderful, little gem
Nicholas made candle frames for the beeswax candles he routinely made. Closer to retirement, he enjoyed making icon frames and carving crosses, which he gave away, and was a source of joy for him. He also loved gardening, picking wild fruit/berries and mushrooms.
Eventually, Nicholas found himself having to leave his home and sanctuary of prayer in his chapel so that by 2010 (at the age of 84) he found himself having to reside in a seniors' care home. It was just prior to this move he requested I come out to pick up some items of what remained from his little chapel; and at that time, he expressed his hope to be tonsured a monk.
Nicholas' prayers were answered. He was tonsured and given the name John on April 11/24, 2013 (Sts. Antipas, bishop of Pergamum and Callinicus, Bishop of Rimnicu in Romania).
As a monastic, there was a quiet joy and peace in having (possessing) the knowledge of what was best for himself and his soul. He fell asleep in the Lord on Oct. 30/Nov. 12, 2014, (Holy Martyrs Zenobius and Zenobia), and was buried at the church where he was baptized — St. John the Baptist, Leonard, Manitoba. Throughout his life, Fr. John embodied the virtues of almsgiving, boldness for the True Faith and emulated that of Sts. Elias and John – a voice crying in the wilderness, cautioning and admonishing. Memory eternal.
P.S. Almost from the beginning of our married life, Nicholas (Fr. John in the monastic tonsure) became and continued to be part of our family over these decades. We have much joy and consolation from acknowledging a "link" between this small, humble chapel which closed its doors and in time, the emergence of a cathedral with St. Nicholas the Wonderworker as patron and protector.
There are more recollections/memories we have recorded for our family albums. Our purpose in sharing this small narrative of Fr. John (Nicholas) was intended for the edification of the faithful of St. Nicholas, the archives of the Metropolis of Toronto; and for the keeping in memory eternal of this pious person.
-Father Bohdan
Sts. Peter and Paul Orthodox Mission
Two Hills, Alberta, Canada